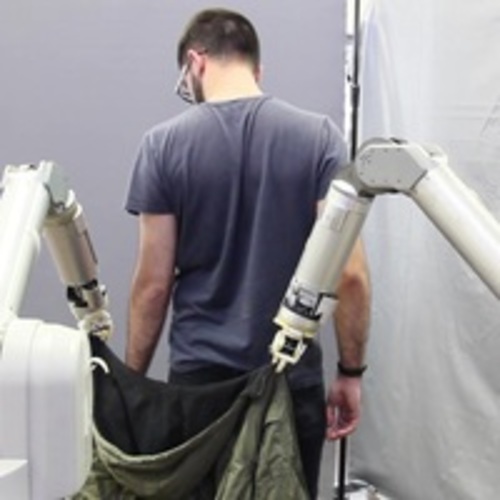 Adapting robot behavior to user preferences in assistive scenarios
Gerard Canal
PhD Thesis, Universitat Politècnica de Catalunya · BarcelonaTech (UPC), 2020

Abstract:
Robotic assistants have inspired numerous books and science fiction movies. In the real world, these kinds of devices are a growing need in amongst the elderly, who will continue requiring more assistance. While life expectancy is increasing, life quality is not necessarily doing so. Thus, we may find ourselves and our loved ones being dependent and needing another person to perform the most basic tasks, which has a strong psychological impact. Accordingly, assistive robots may be the definitive tool to give more quality of life by empowering dependent people and extending their independent living. Assisting users to perform daily activities requires adapting to them and their needs, as they might not be able to adapt to the robot. This thesis tackles adaptation and personalization issues through user preferences. We focus on physical tasks that involve close contact, as these present interesting challenges, and are of great importance for the user. Therefore, three tasks are mainly used throughout the thesis: assistive feeding, shoe fitting, and jacket dressing. We first describe a framework for robot behavior adaptation that illustrates how robots should be personalized for and by end-users or their assistants. Using this framework, non-technical users determine how the robot should behave. Then, we define the concept of preference for assistive robotics scenarios and establish a taxonomy, which includes hierarchies and groups of preferences, grounding definitions and concepts. We then show how the preferences in the taxonomy are used with AI planning systems to adapt the robot behavior to the preferences of the user obtained from simple questions. Our algorithms allow for long-term adaptations as well as to cope with misinferred user models. We further integrate the methods with low-level motion primitives that provide a more robust adaptation and behavior while lowering the number of needed actions and demonstrations. Moreover, we perform a deeper analysis of planning and preferences with the introduction of new algorithms to provide preference suggestions in planning domains. The thesis then concludes with a user study that evaluates the use of the preferences in the three real assistive robotics scenarios. The experiments show a clear understanding of the preferences of users, who were able to assess the impact of their preferences on the behavior of the robot. In summary, we provide tools and algorithms to design the robotic assistants of the future. Assistants that should be able to adapt to the assisted user needs and preferences, just as human assistants do nowadays.
@phdthesis{gcanal_phdthesis,
    author = "Gerard Canal",
    title = "{Adapting robot behavior to user preferences in assistive scenarios}",
    school = "Universitat Politècnica de Catalunya · BarcelonaTech (UPC)",
    year = "2020",
    month = "3"
}